Hello all, this is Mod Dan at your service. This thread serves one purpose and one purpose only. To talk about linerider. What's that you say? YOU HAVE NEVER HEARD OF LINERIDER??!!!??? Well, we'll have to change that won't we. To all you newcomers, please stay tuned for more info.

Sincerely Mod Dan, [[Sometimes I wonder, "why is that frisbee getting bigger?" and then it hits me...]]
Last edited by on Mon Dec 31, 2007 2:57 pm; edited 2 times in total

Mod Dan




Posts

: 9


Join date

: 2007-12-18


Age

: 26


Location

: Michigan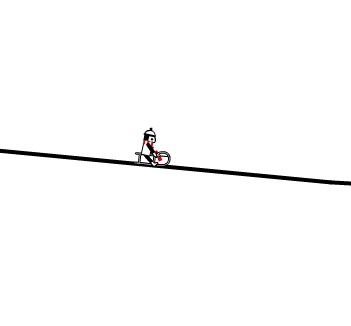 This is Linerider. As you can see, he is a little dude with a scarf, on a sled.
In linerider you draw a line and the dude with the scarf rides his sled on the line. You can make it so there are ramps in the line that the dude can jump over or even do loop-dee-loops.
Just don't make the ramp too steep or your dude will wipe out.
Sometimes, you will fly off a ramp at too high of speeds and then loose your sled. Oh no!

Mod Dan




Posts

: 9


Join date

: 2007-12-18


Age

: 26


Location

: Michigan



If you wish to go to linerider, simply go to linerider.com! Enjoy!

Sincerely Mod Dan, [[Sometimes I wonder, "why is that frisbee getting bigger?" and then it hits me...]]

Mod Dan




Posts

: 9


Join date

: 2007-12-18


Age

: 26


Location

: Michigan




---
Permissions in this forum:
You
cannot
reply to topics in this forum